Benny The Butcher / Griselda Records
Booking — Sponsors — Partners Area
Reincarnation of the Rap Icon — BENNY THE BUTCHER
"G-X-F-R, they say we rose quickly / they wasn't wit me on them nights I was broke, nah, they don't feel feel me / think this over night, then you won't get me…" raps over the opening piece on his highly anticipated Griselda Records debut album Tana Talk 3. Right away, you're likely to get the feeling, that with BENNY, it's all in the music! This holds true. His reputation precedes him past, present and future. And the future is brighter than ever.
BENNY THE BUTCHER, CEO of Black Soprano Family inked his partnership with Griselda Records at the top of 2017 and since, has gone on to successfully execute his own headlining tour throughout the summer of 2018. During the tour, the demand would increase for more dates to added along the way — including a string of sold-out pop-up shop/meet-n-greet events to pair with the successful tour.
"Benny The Butcher Rattles the Competition With Sharp Wordplay in 'Broken Bottles'
With rap aficionados salivating over Benny The Butcher's Tana Talk 3 project…"
Transcending Stereotypes
and
Barriers
TOURING
BENNY's First Three National Tours Under the Griselda Imprint — All Resulted in Successful Headling Appearances. And the Most Recent Tour, Appropriately Coined The Butcher Coming Tour; Would See BENNY as the Sole Headliner Night-in-Night-Out. His Solo Headlining Tour Went on to Crescendo To New Levels — Riding the Momentum of the Co-Headlined Key To Life Tour with legendary rap Statesmen The Lox and DJ Statkik Selektah for an 11+ city North America, USA Run.
Legendary Sold Out Performances Inside Iconic Venues
A Testimonial From The #1 Hip-Hop Culture Podcast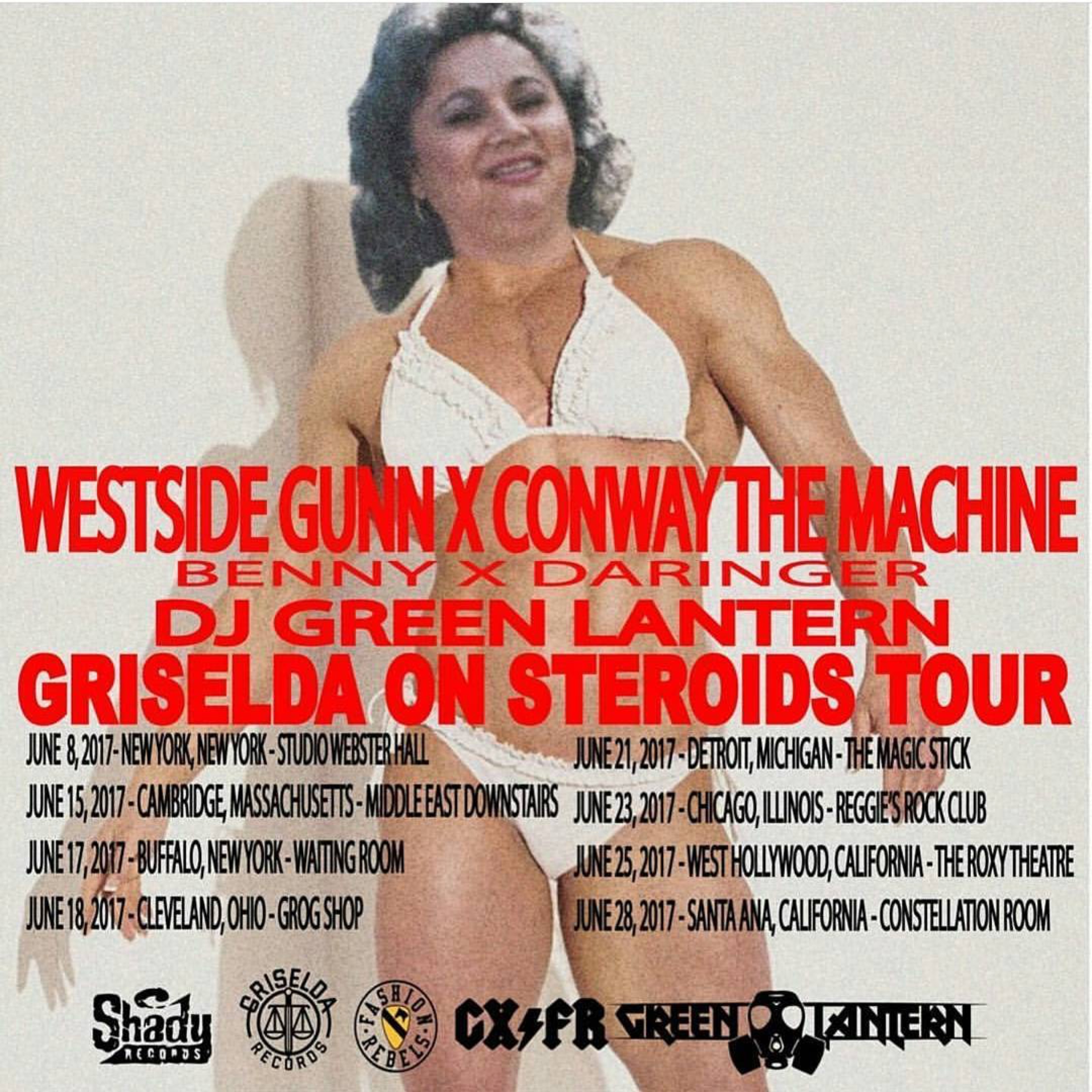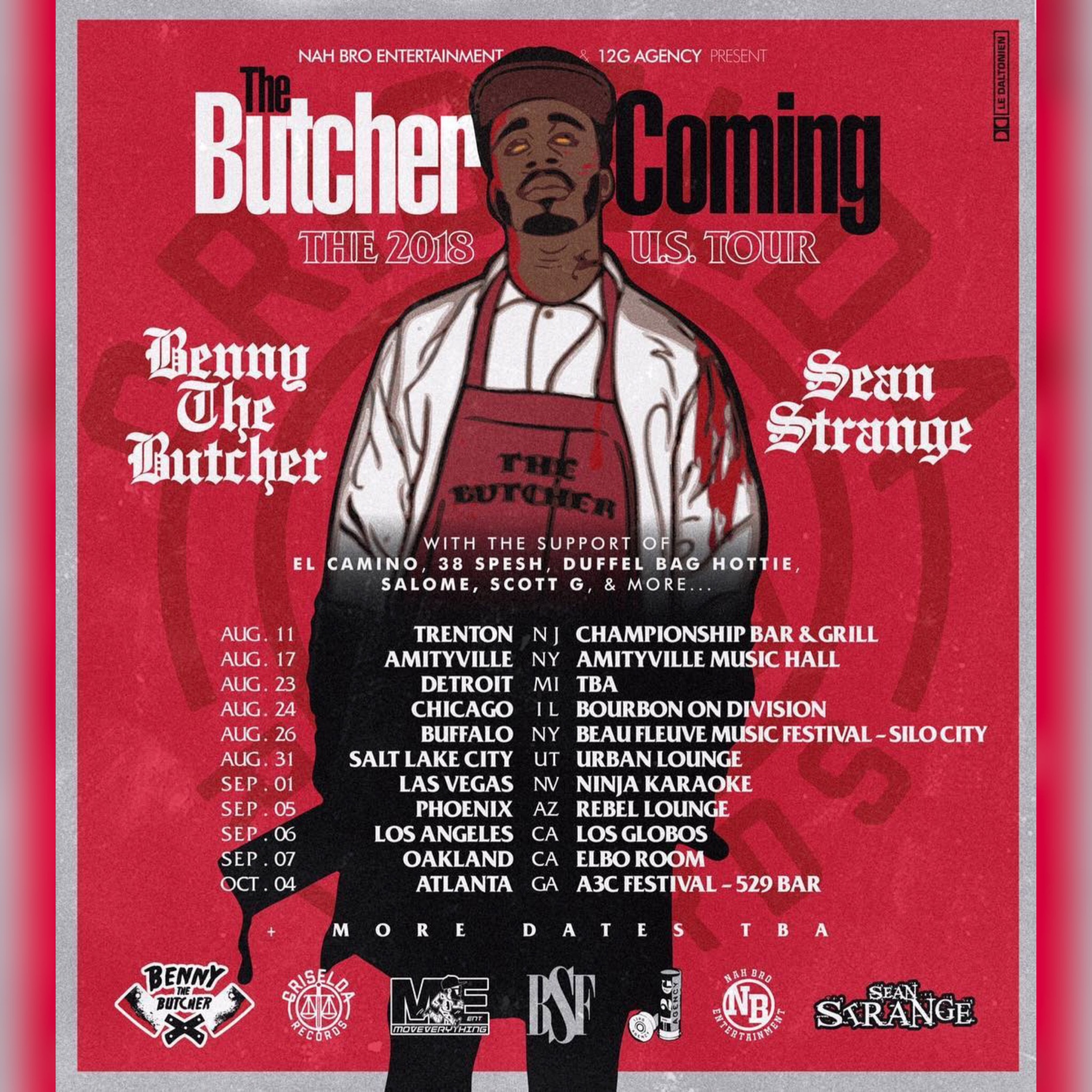 GRISELDA ON STEROIDS TOUR
LOCATION | VENUE
NEW YORK CITY, USA | WEBSTER HALL (STUDIO)
CAMBRIDGE, MA, USA | MIDDLE EAST DOWNSTAIRS
BUFFALO, NY, USA | WAITING ROOM
CLEVELAND, OH, USA | GROG SHOP
DETROIT, MI, USA | THE MAGIC STICK
CHICAGO, IL, USA | REGGIE'S ROCK CLUB
LOS ANGELES, CA, USA | THE ROXY THEATRE
SANTA ANA, CA, USA | CONSTELLATION ROOM
KEY TO LIFE TOUR
LOCATION | VENUE
CHARLOTTE, NC, USA | THE UNDERGROUND
WASHINGTON, DC, USA | HOWARD THEATRE
PROVIDENCE, RI, USA | THE STRAND
PHILLADELPHIA, PA, USA | TLA
BALTIMORE, MD, USA | SOUNDSTAGE
CLIFTON PARK, NY, USA | UPSTATE CONCERT HALL
ROCHESTER, NY, USA | GERMAN HOUSE THEATRE
CLEVELAND, OH, USA | THE AGORA BALLROOM
CHICAGO, IL, USA | HOUSE OF BLUES
DETROIT, MI, USA | EL CLUB
CINCINNATI, OH, USA | BOGARTS
THE BUTCHER COMING TOUR
LOCATION | VENUE
TRENTON, NJ, USA | CHAMPIONSHIP BAR & GRILL
AMITYVILLE, NY, USA | AMITYVILLE MUSIC HALL
DETROIT, MI, USA | CELLARMEN'S
CHICAGO, IL, USA | BOURBON DIVISION
BUFFALO, NY, USA | BEAU FLEUVE MUSIC FESTIVAL
SALT LAKE CITY, UT, USA | URBAN LOUNGE
LAS VEGAS, NV, USA | NINJA KARAOKE
PHOENOX, AZ, USA | REBEL LOUNGE
LOS ANGELES, CA, USA | LOS GLOBOS
OAKLAND, CA, USA | ELBO ROOM
ATLANTA, GA, USA | A3C FESTIVAL - MAIN FESTIVAL STAGE
TOURING: TOP 10 MARKETS
BUFFALO, NY, USA

ROCHESTER, NY, USA

NEW YORK CITY, USA

LOS ANGELES, CA, USA

CHICAGO, IL, USA

BOSTON, MA, USA

PHILADELPHIA, PA, USA

DETROIT, MI, USA

CLEVELAND, OH, USA

ATLANTA, GA, USA
WORLD-CLASS MEDIA APPEARANCES = ENDLESS CREATIVE CONTENT PARTNERSHIP/SPONSOR OPPORTUNITIES
SOCIAL MEDIA IMPACT — THe #GxFR Umbrella
THE WORLD IS TALKING ABOUT TANA TALK 3
TANA TALK 3
An album by BENNY THE BUTCHER
Produced by DARINGER and ALCHEMIST
Executive produced by WESTSIDE GUNN
Distributed by Griselda Records